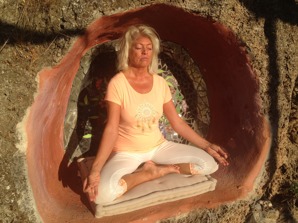 Breathing correctly is the most important part of yoga and meditation. EVITA is teaching a set of physical exercises and sequences designed to align the breathing and the muscles. The postures are designed to open the many channels of the body, especially the main channels in the spine so that energy can flow freely.

The focus is also on awakening the Kundalini energy through regular practice of meditation, pranayama, chanting mantra and yoga asanas. Kundalini, called by practitioners "the yoga of awareness", aims "to cultivate the creative spiritual potential of a human to uphold values, speak truth and focus on the compassion and consciousness needed to serve and heal others.

EVITA's yoga classes are being held outdoors in the sun/shade weather permitting.
If not - we find somewhere inside/covered,,,will let you know!

You are always welcome to "Keep it up" – warm regards EVITA!


EVITA,s YOGA classes: Time and Place: I Fuengirola, läs längre ner, tacksam för besked.


Hi and nice to hear from you!

I, Evita, will now take a vacation and go north, maybe we can meet in Sweden or Norway during the summer.
Hope to see you back on the coast in the fall, warm hugs and take care. Lot of love and stay safe!






Read more below and/or call 0034 679 78 12 52, hugs Evita!
If you want to receive my yoga emails, please let me know.

Medtag gärna matta, kudde, handduk, och/eller filt. Inga förkunskaper behövs, samt kom gärna i GOD tid, tack!
Säg till om du vill ha mina yogamails framöver.

Mondays and Fridays in San Pedro on the beach 10.30 - 12.00. Maybe bring some drinks/snacks for after. Go for a swim?

If you want to speak about something after, I will give you 5 minutes, just let me know and warm welcome.


Monday classes Kundalini yoga. Fridays can vary a bit - welcome to ask. Wednesdays can be an alternative day for the other two, so stay informed.
PLEASE book in advance with EVITA to make sure that place, day and time is available. Also so I can plan ahead.
Let me know if you want to lend a mattress and/or cushion, always good to bring water.
We also have un WhatsApp group, if you feel like joining in. Please respect, only messing between 8 am - 10 pm, 9 am weekends thanks and hugs.

PRICES: 10 € per class. 5 euros second class the same week. Private classes, 1 1/2 H, 40 € at Evita,s/50 € at clients' home. Please pay in cash, thanks!

Yoga på svenska: Varmt välkommen till Evitas Yoga i Fuengirola:

Måndagar på stranden, vid Paseo Maritimo 11 ( Vid fingrarna) 15.00 - 16,30. Kanske bada efter,,,
Säg till om du vill åka med från Marbella, så kanske det funkar, kram.

Medtag gärna matta, kudde, handduk, och/eller filt, samt 7 euros per pass . Inga förkunskaper behövs - kom gärna i god tid, tack!
Vi kan variera yogan, beroende på gruppen, så bara kom ock häng med på det som passar dig. Mer information på min hemsida, se nedan.
Tacksam för föranmälan då dag och tid kan ändras! Anmälan sker till Evita på 679 78 12 52 evalindblom@hotmail.com
Det går givetvis bra med "drop-in", om du har svår att veta i förväg, bara du kollar att vi är där, så du inte kommer förgäves...
Vi har även en messengergrupp, för den som vill vara med där. OBS: Messa mellan 8.00 - 22.00, 9.00 på helger, tack o kram!

PLEASE READ THIS before coming to the classes:

If you have been considering starting a practice you are not alone. Many are turning to yoga as part of a healthy lifestyle. It helps to have a basic understanding of what to expect so you can focus on what's going on in the class and what's going on with your body.

Here are 8 tips to help you not only survive, but thrive in your first yoga class and after, for the rest of your life!

1. Remember that yoga is a practice that meets you where you are.
No matter where you are, there is a yoga practice that is right for you. Yoga doesn't care if you are tall or short, heavy or slim, young or old. Yoga helps us to deeply explore ourselves, no matter where we are. Remembering this on the mat can help you to let go of self-judgment and begin to soften into each moment. Normally we keep our eyes closed

2. Do your research to find a class that meets your needs.
Please read my website. Read the class descriptions or call me to ask questions. There are many different styles of yoga so look for one that will meet your specific needs. Word of mouth is another way to find out, so ask your friends or people you meet at the class.

3. Arrive Early.
Once you have settled on a class, arriving AT LEAST 15 minutes early will allow you to meet the teacher and inform about yourself and what you are hoping to accomplish by starting a yoga practice. As a regular, it also allows you to get your space and start to relax and prepare for the class.

4. It is best that you do not eat for some time before the class but do stay hydrated.
If you're digesting a meal, your body will be using energy that could otherwise be focused on your practice. Also, twisting and bending do not feel great with a full stomach! If possible wait about two hours after a meal and one hour after a light snack. Make sure you stay hydrated by drinking plenty of water.

5. Wear clothes in layers, that you feel comfortable in. Maybe some a little warmer, both for in- and outside. No shoes.
Depending on the class, you may be bending over, twisting, turning, stretching, and even inverting. Make sure you do not only wear comfortable but also that you are wearing something that will stay put!

6. What to bring/material.
Please bring a mat/cushion/blanket ( thick or thin, your choice), always nice for support, maybe a towel and some water.

7. Respect your body and its limits.
Yoga is about self-acceptance and meeting yourself where you are with love and compassion. The slower you move, the faster you progress - to begin with.
Finding your edge in each pose and continually staying with it as you breathe respects where you are and will allow you to move forward over time.

8. Stay open and enjoy the practice.
Chose to go into your practice with an open heart and mind. Don't judge the practice. Commit and keep going. During my first yoga class, I knew that something fundamentally right was happening. I did not understand what it was, but I knew I was where I needed to be.
You deserve to connect and to communicate deeply with your body. You deserve to strengthen inside and out and most of all, you deserve to change all that is not serving you in your life. Yoga informs us about ourselves. The more we practice, the more information we will receive as we begin to watch, connect, and engage at deeper levels. It is through that connection and engagement that we can begin to transform our bodies, our minds, and our world – one practice at a time. Just Keep it up and Keep doing it.

Important Guidelines:
Any person with a known medical condition should always consult their physician before engaging in yoga practice. Women who are menstruating (on the first 3 days of the cycle) or are pregnant should avoid breath of fire and other exercises that powerfully engage the naval center like Sat Kriya. Inverted poses where the legs are lifted higher than the naval point should also be avoided. Long deep breathing can be done in the place of breath of fire. Resting in child's pose or savasana, during poses like stretch pose, is also encouraged.

Hope to see you on and outside the mat, warm hugs Evita!
YOGA RETREATS with EVITA!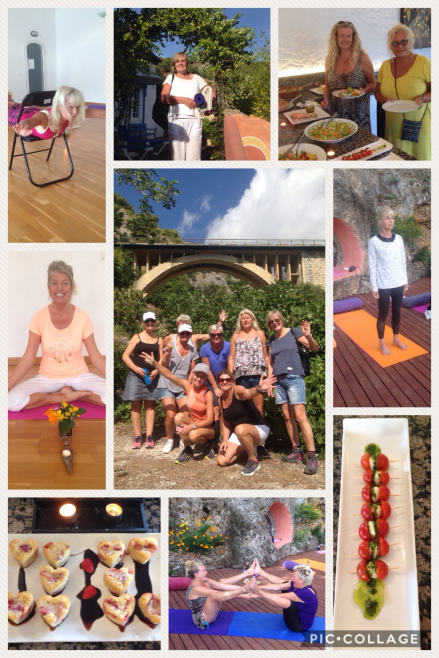 Molino del Rey, Malaga, Spain
October 10 - 16, 2021. 990 euros.
24/4 and 25/9 2022, welcome!



Please, now during corona times, we need to see how it goes.
Just contact me and we take it from there, hugs Evita!

Read more about this wonderful time in Molino del Rey,
Costa del Sol.

Click here for more info and booking
Även på svenska, samt lite mer info nedan.

This fantastic place is available to us.
Let me know as soon as possible if you are joining.
As always, it's about given and take. Don't miss this opportunity.
Take it easy and I hope to see you soon, most welcome Evita!


INFORMATION to make your stay as pleasant as possible.

Do read it carefully/many times and don't hesitate to contact me if you have any questions. See the contact details below.

We practice yoga 2-3 times per day, minimum of four hours. In the morning an "easy" practice, focusing on breathing, stretching, with a more physical session in the afternoon. We spend the evenings together singing, laughing, meditating, and there will be several surprises!
At least once we will heat up the big Swedish style sauna.
Coffee/tea/water is free of charge. Soft drinks are available at extra cost. Recommend no intake of alcohol.

There will be opportunities to walk every day, together in a group or of course alone. Please bring comfortable shoes. The trainers are fine.

If you wish we can arrange half a day to visit the historical town of Ronda and/or to the coast. We depart after breakfast and return for dinner and evening practice. If not, you can go alone and we help to arrange it.
The roads through the mountains are superb, but lots bend!

The entire venue area is smoke-free.

The price is 990 euros in shared en-suite twin rooms.

You are welcome to arrive at the center from 3 pm on Sunday. We gather together at 6 pm for dinner. Please do come on time.
Check out is Saturday morning, the latest at 11 am. Please, do not have an return flight before 2 pm, if possible.

It's important to be aware that Molino del Rey is private property and not a hotel.
Make sure that you have travel insurance for your time away.
All rooms are en-suite, with warm/cold A/C, ceiling fans, comfortable beds, electric mattresses, hairdryers, kettles, and safes.
The rooms beautifully prepared for your arrival, but there is no room service, bed linen, towels, etc are not renewed during your stay.
Please bring your own towel or you can lend, to use by the pool & for the sauna.

Delicious breakfast buffet and dinner, HB is included in the price. The food is healthy and home-cooked.
Leftovers from the day before will be available for anyone who gets hungry between meals.

Suggested airlines

www.supersavertravel.com www.rumbo.com www.vueling.es www.seat.com EasyJet, BA & Ryan Air & Monarch
If you wish to arrive early or stay longer in Spain to see other places and sights I will be very happy to help.

Please feel free to contact Eva Lindblom = EVITA
yogawithevita@gmail.com/evalindblom@hotmail.com or 0034 679 78 12 52
For more pictures and information: www.yogaevita.org

Molino del Rey s/n
Valle de Jorox, Alozaina (Málaga)
E-29657 Spain
www.molinodelrey.com

Evita håller yogakurser på Molino del Rey i södra Spanien.

Många tror att det där med yoga är en stor grej, att man måste förändra så mycket och sluta med en massa saker. Istället är det "enkelt" att lägga till då du har det mesta inom dig och behöver bara lära dig tekniken för att uppleva fantastisk glädje och energi.

Evita som är yogalärare och verksam på Costa del Sol sedan mer än femton år, beskriver Molino del Rey som den bästa yogaplatsen hon varit på.
– Den är total, de har tänkt på allt, från de sköna sängarna och stjärnorna i taket när du släcker lampan, till den fantastiskt goda vegetariska maten.

Under kursen finns förutom själva yogan också möjlighet till olika slags behandlingar, vandringar, bastu och bad i saltvattenspoolen.
Evita beskriver den härliga luften, allt rinnande vatten och energin som omger platsen.
– "Här mår jag så bra att jag svävar på moln"!

"Tusenmilaservice"
Många av deltagarna är svenskar från Sverige som väljer en lite annorlunda semester och en del kombinerar med några dagar på Solkusten, kanske golfar, gör utflykter eller njuter av sol o bad. Ibland är kursen på engelska, då anmälningar även kan komma från olika delar av världen.

Kursen är en "nybörjar"kurs, som enligt Evita fungerar givetvis utmärkt som "tusenmilaservice" för att rensa och fylla på med nytt även för dem som yogar regelbundet. Det har även kommit flera yogalärare under åren, som varit elever. Som alltid inom yogan, gäller det att "Keep it up".
– Det är en otrolig uppladdning av inre upplevelser/energi och samtidigt en nedladdning när det gäller stressen.
– Vi använder inga pekpinnar, det handlar inte om att vara duktig, utan var och en gör efter sin förmåga.

Priset är 990 euros för boende, del i dubbelrum och dagarna fylls med yoga, meditation, naturupplevelser, historieberättande, samt mycket skratt.
Hör av dig till mig om du vill komma med, så får vi se vad coronan säger, tack o kram Evita!